Indoor plant Cyperus is more commonly known as home palm with spectacular leaves. It grows rapidly, is actively developing and does not impose special requirements for the conditions of its growth. It makes home flowers Tsiperus very popular and sought after by gardeners.
We offer a description of the culture and initial information on its agricultural technology in greenhouse conditions. From the proposed article, you can learn the rules of organizing care for him and form a general idea of ​​the conditions for growing tsiperus.
Given the brief characteristics of the main types of palm trees, suitable for growing in room conditions. The application of this culture is exclusively decorative. Used in the design of both country houses and city apartments, as well as shopping and office centers.
Look at how cyperus looks at home in the photo, illustrating the strong and healthy appearance of the plant: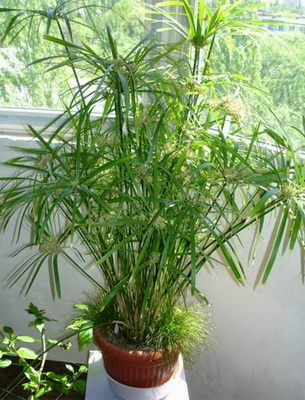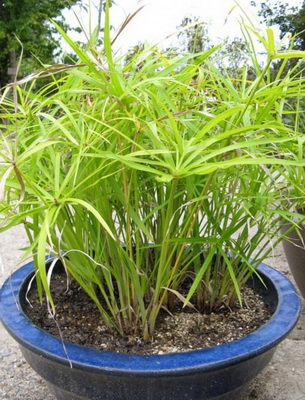 Types of flower tsiperus (with photo)
At home, some types of tsiperus are cultivated, which are not distinguished by increased requirements for external conditions.
Tsiperus perenifolistny (Cyperus altemifolius)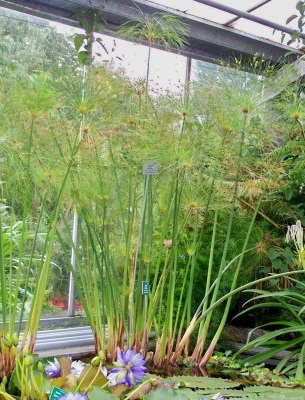 Cyperus papyrus (C. papirus) look the same only from afar. In the first species, on thin stems up to 1 m long, there are bunches of slender, green apical leaves that elegantly hang down.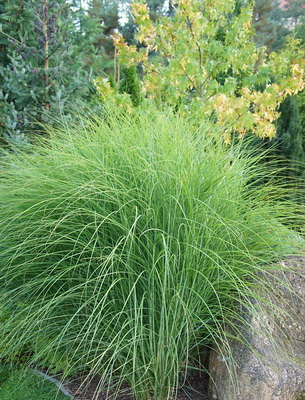 White and motley option 'Variegatus' is less common. Unfortunately, it quickly becomes pure green. Cyperus papirus bears only a few apical leaves on thick, triangular stems that grow to 3 m in height, but in addition to them thick bunches of filamentous leaves up to 25 cm are formed.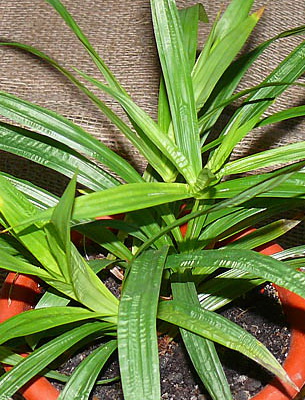 As a houseplant known even tsiperus white-striped (Cyperus albostriatus), commonly sold under the name Cyperus diffusus. This species originating from South Africa is more stunted, it is distinguished by leaves with rough edges located on low stems.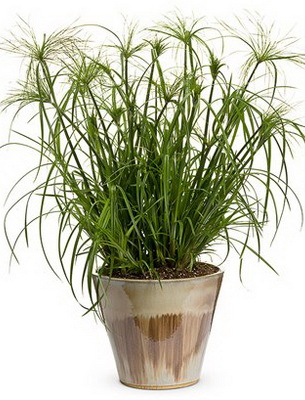 Tsiperus thin (Cyperus gracilis) - undersized view that reaches only 30 cm in height.
All these types of Syty are marsh plants.
Look at the flower tsiperus on the photo, which shows different types of culture: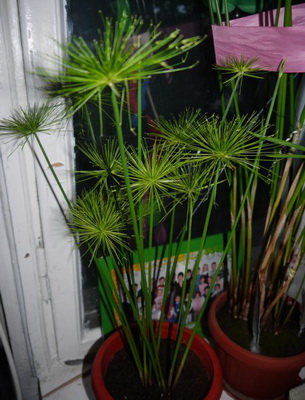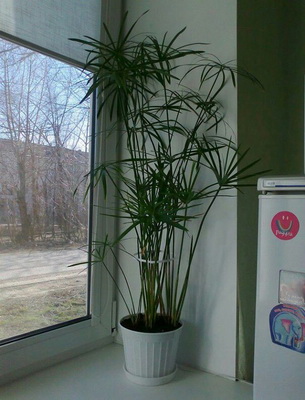 Care for tsiperus at home
It is not difficult to organize care for tsiperus at home, it is enough to know the botanical characteristics and culture requirements.
Family: Suregaseae (sedge).
Homeland: Tropics and subtropics.
Location for tsiperus at home - bright and sunny, in no case the north window. All species, with the exception of Cyperus albostriatus, love the sunny place and fresh air.
Temperature: Prefer very warm, not lower than 18 ° C.
Air humidity: In the summer at high temperatures to maintain high. Do not spray, and provide artificial humidity.
Substrate: Equal parts of flower soil, sand and loam.
Watering: Plants must stand in the water. Place the pot with tsiperus in a larger vessel with water (water can be 5 cm above the substrate). It is important that the roots never dry out, even for a very short time. If this happens, the tips of the apical leaves turn brown in color, just like with too dry air.
Top dressing: In the summer every week, in the winter time in b weeks.
Transfer: Every 2 of the year.
Reproduction: Division; Cyperus altemifolius - bundles of leaves, which quickly take root in a container of water. Possibly seeds.
Pests, diseases: Spider mite.
Important! Cyperus albostriatus, small species, does not like to stand in the water. It is treated as with ordinary pot culture.
Put large stones on the substrate, then the pot will not float in water.
SIMILAR ARTICLES: