Everyone is used to seeing algae in aquariums. Honestly - a bit fed up. Yes, they will be a mandatory attribute, but I want more and more beautiful. No pebbles and fish houses will make the aquarium brighter.
Crinum flowers - aquarium paradise for your fish, because it is an amazing flower, large size family Amaryllis. Their length can reach 50 cm, so that some aquarium owners have to trim them. The width of the leaves - no more than 1go see. Undoubtedly, the plant krinum perfectly fit into any surroundings.
From the proposed article you can learn about taking care of them at home, as well as talking about various types of plants. In the meantime, look at the aquarium krinum in the photo, illustrating the beauty of this representative of the aquatic flora: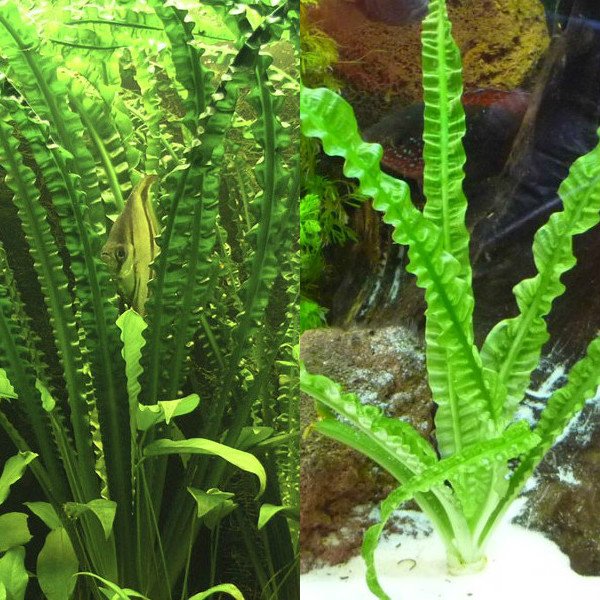 Features krinuma and care for him at home
If we talk about the botanical characteristics of krinuma, then it does not have a stem as such, but grows out of a bulb. In order to plant an onion, a primer is needed in which its lower part will be immersed. The peculiarity of this plant is that it will very quickly begin to take root, thereby rooting perfectly. Care for him at home is timely feeding and transplanting.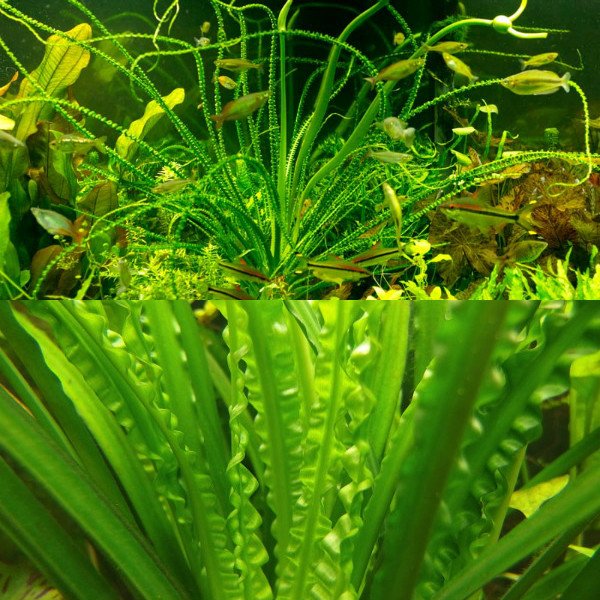 Sometimes it happens that the bulb quickly begins to let the leaves. This is not a problem - it is fast enough, thus adapting to water and the environment. About a month later, after planting, the first leaf sprouts may appear.
You can see a photo of a krinum that spreads its leaves widely. This effect can be achieved only if you keep an eye on its growth and properly monitor it. Behind krinum at home care easy. You need to remember one thing - after the bulb was planted, it should not be disturbed. He needs time to adapt. There is an interesting way in which you do not damage the bulb and roots when cleaning the aquarium - to plant the bulb in a separate pot. Thus, you once again will not replant it and harm the roots.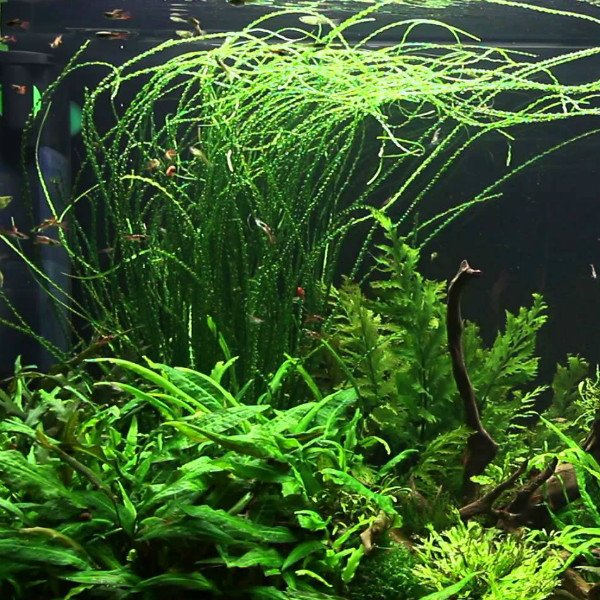 Types of krinum: wavy, mura, kalamistratum and curly (with photo)
Among the varieties for gardeners offered a large number of such plants. Below are descriptions and photos of types of krinuma, suitable for growing at home. Select the most popular types of krinum:
Crinum wavy - has a long, up to 10 cm, bulb, which already distinguishes it from its relatives. The leaves are tightly curled, from which this species got its name. At length, the plant can reach 80, see. Requires constant care and pruning, so as not to overgrow the entire aquarium. We also recommend that this species be planted in separate pots, as frequent transplantations can destroy the plant;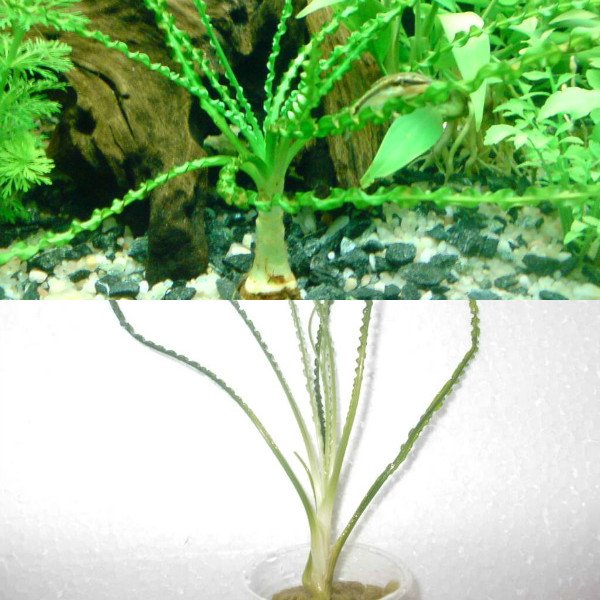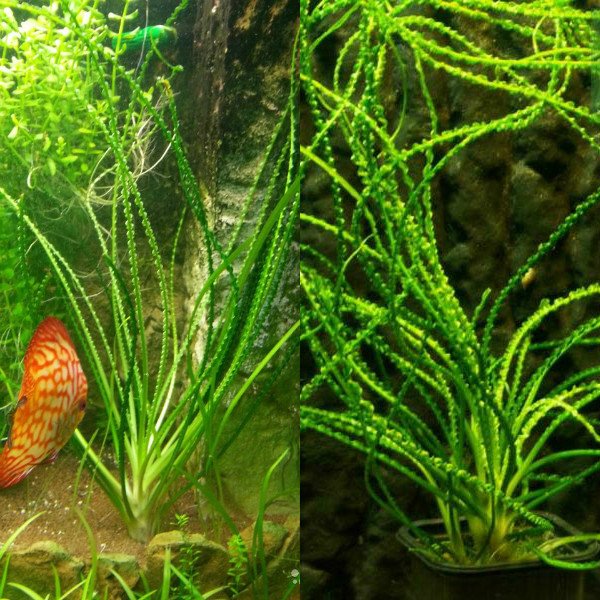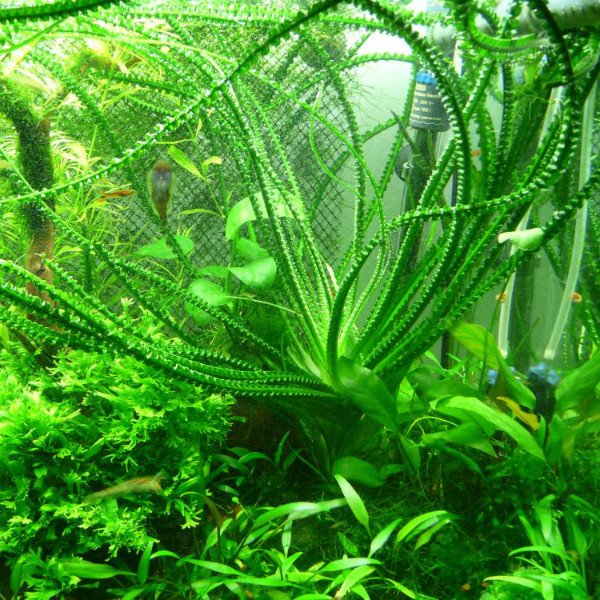 Crinum Mura is a houseplant, which is already a distinctive feature. It contains more than 20 subspecies, which differ in size and color. Plant height may exceed 55 cm. Some species reach heights above 120 cm. Unlike their relatives, the flower requires frequent transplantation from a small pot to a larger one. Approximately a year must be made before 4x transplants. When replanting, 1 / 3 bulbs must be kept above the surface. He does not like high temperatures, so his place is a cool corner of the room. During the flowering period, pink or purple flowers appear that are in the shape of an umbrella. Give a stunning flavor in the whole room;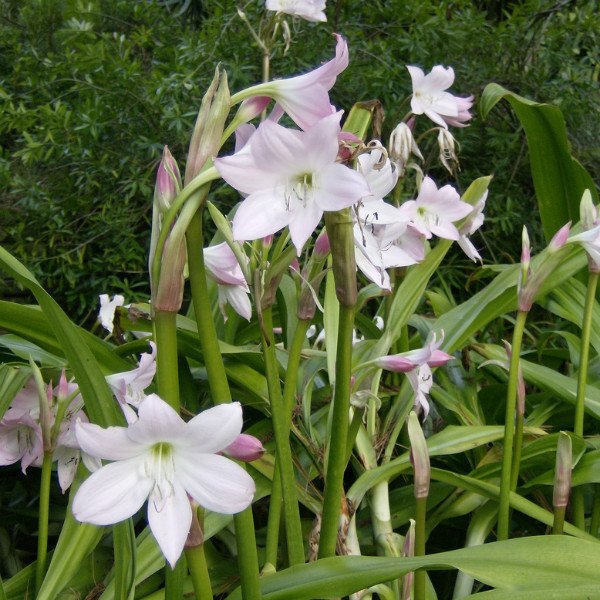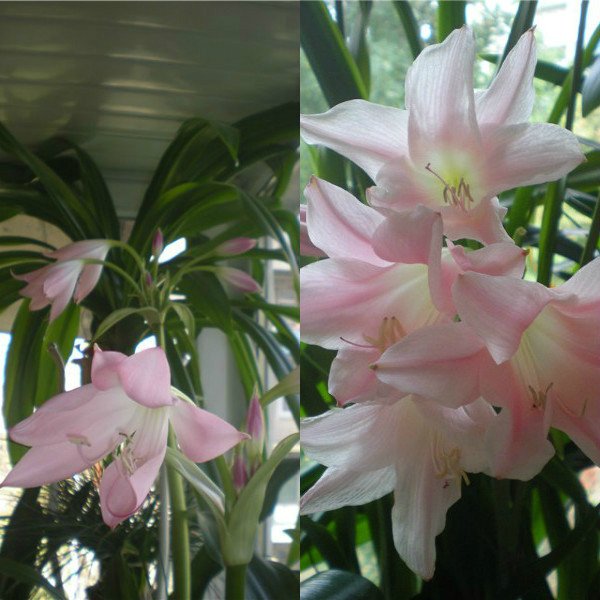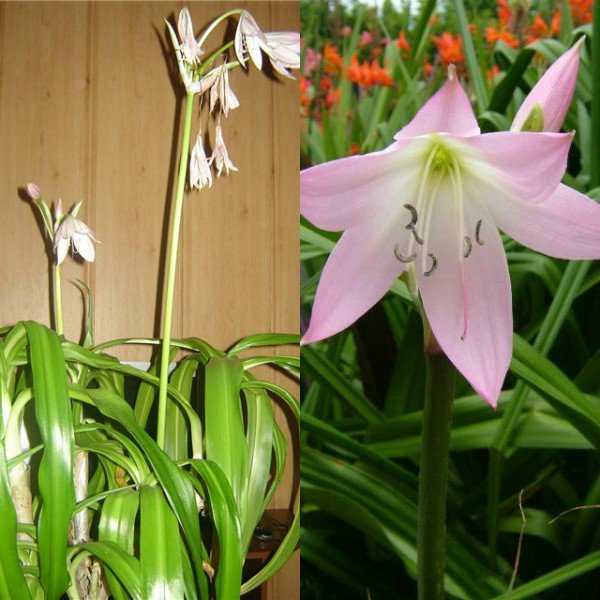 Crinum curly - a thin plant with long and curly leaves. Its distinguishing feature is a small onion. It is also very light-loving, which further distinguishes it among all species. Even more impressive is the height of the leaves - mad 120, see. Such a plant should be planted only in large aquariums or constantly pruned it, although it grows rather slowly. The leaves are colored dark green;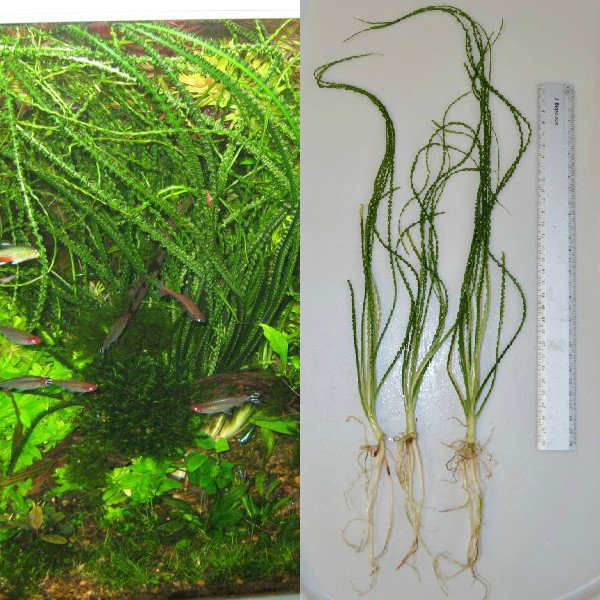 Crinum Kalamistratum - has ribbon-like sheets. Their length, while creating the most favorable conditions for growth, can reach 1 m, and in width - no more than 0,8, like clean water, therefore, it needs to be changed regularly. Or, once a week inject the 1 / 5 aquarium with fresh water. It does not grow fast, which makes it easier to trim. It is recommended to plant in a pot, as it is difficult for the transplant (it can even stop growing).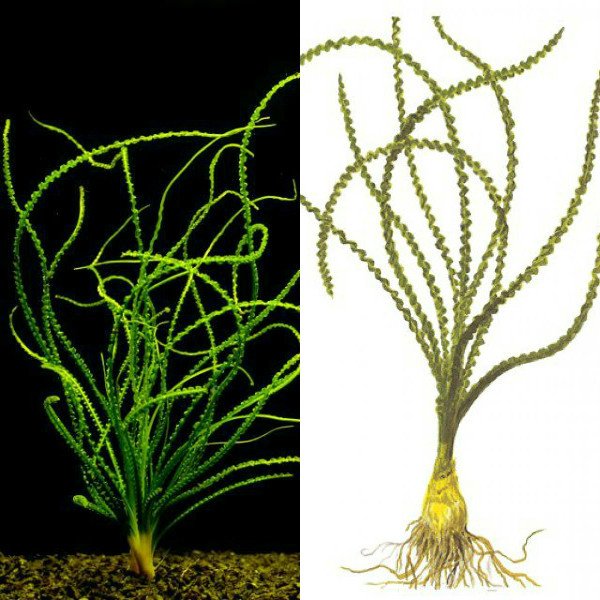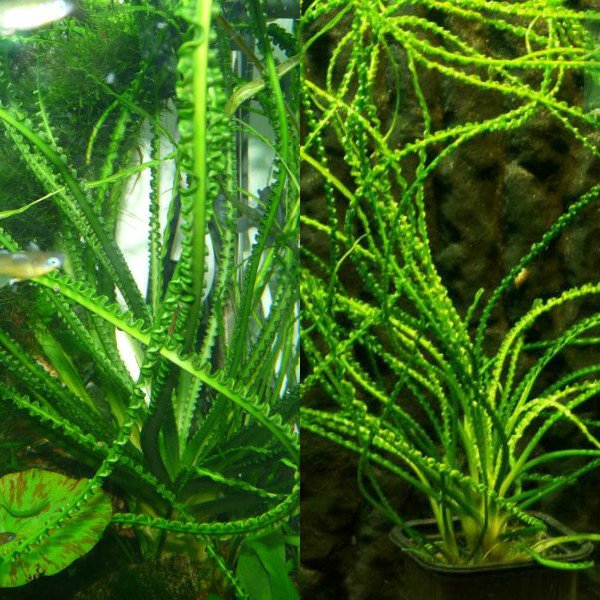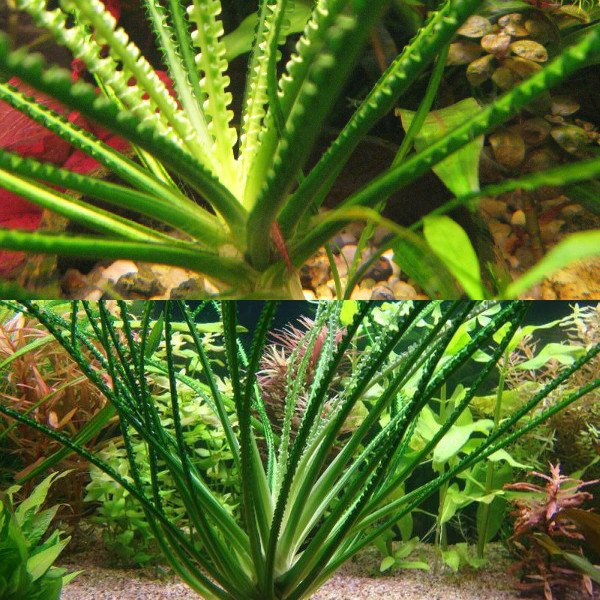 Look at all these types of krinuma in the photo and select the suitable plant for yourself.
Pests and diseases that will have to fight
The most problematic is krinum Moore, which we will talk about. Pests and common diseases that will have to be overcome are sometimes affected by other plant species. But it happens much less often.
If you find suspicious red spots on the bulb of your plant, then it should be treated with foundation. These spots, the so-called "burns" are a consequence of the occurrence of Staganospore. If the plant is very stained, then you need to prepare a mixture of chalk, approximately 100 g, which needs to be powdered, add 5 g of copper sulfate and 10 g OP-7 (adhesive). All this must be diluted with water to get a thick mass. Then, it is necessary to completely coat the entire plant, from the bulb to the leaves.
Also, Anthracnosis may develop. Its signs - black spots appear on the leaves. Such a disease develops only in conditions of high air temperature. To overcome the disease, will have to remove all the affected leaves. The onion must be treated with baseol (2 g per liter of water). After treatment, it is necessary to move the plant to a darker and cooler place.
Also, on the leaves can develop Shchitovki - sticky discharge. This is the most harmless damage to a plant that can be easily overcome with a solution of water and laundry soap.
Of the parasites - the most common - mealy worms, spider aphid. They appear in the case when the plant did not have proper care - it did not water, the leaves did not moisten. You can remove them with special solutions that are sold in stores.
Where can I plant and what will be in the end
Given the huge size of the leaves, such plants should be planted in large aquariums, liters per 400. Only then can you see all its beauty. Imagine that your fish will have their own forest, since two or three of these flowers form a similar density of forest. Look at the photo - where you can put the crinum and what ultimately will come of it: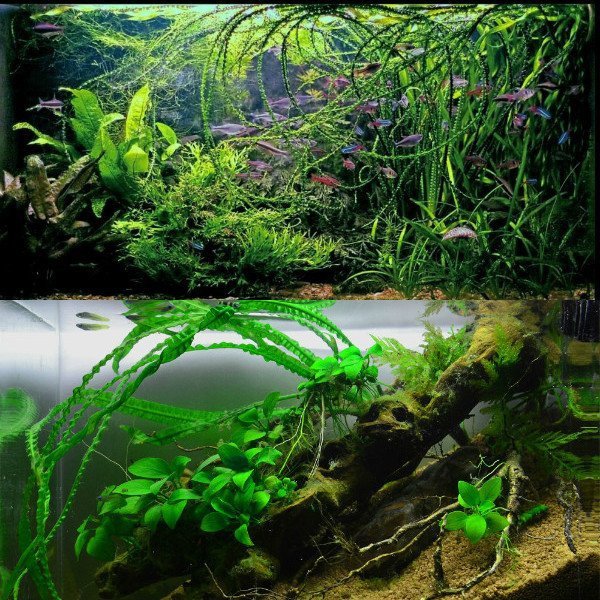 Also, your fish will not damage the aquarium crinums, because they do not eat them. Another plus. If you constantly and with love to care, you can achieve amazing results.
As for the kind of Moore, one thing is clear - it will give you unprecedented freshness and wonderful aroma. In addition, very beautiful inflorescences that appear in the summer and will delight until the end of autumn. Having planted several of these at home, you will feel as if in the tropics - the plant is home to South Africa.
SIMILAR ARTICLES: